Our internship programme aims to provide an introduction to research for health and social care professionals.
Internships comprise 30 days over four to nine months, providing interns with the opportunity, resources and time to develop key research skills and optional accreditation for a master's level unit in research (15 credits). The 30 days can be taken flexibly to suit the needs of the intern's current role. Internships will start in September or January each year up until January 2024.
Who can apply?
Internships are available to Nurses, Midwifes, Allied Health Professionals, Social Care and Public Health professionals at AfC Band 5 or above (or equivalent) working within Greater Manchester. All prospective interns will need written approval from their line manager and organisation to confirm they can be released from their current position for 30 days throughout their internship.
We are unable to provide backfill funding for interns entering our programme. However each intern does have access to an individual training budget.
Meet our current interns

How are applicants selected?
Shortlisting and awards are made using the criteria below. Preference is given to applicants who can demonstrate more of the following:
An understanding of the role of applied health and social care research in their current practice
Alignment of their research interest with a theme(s) in the ARC
Willingness to undertake research modules /qualifications
Evidence of previous study at minimum of BA/ BSc level or equivalent
Interest in pursuing a clinical academic research career
Support within place of work/practice setting to undertake the internship
What does the Internship Involve?
The internship is based at the University of Manchester, however due to the current pandemic the internship will be delivered through online meetings, events and learning materials.
The structure of the internship is flexible and tailored to the needs of the intern, but with four core components:
1) One-to-one support
Interns will be supported by a dedicated small ARC-GM team to help guide and support them throughout the internship programme. The team are always on hand to answer any queries, concerns and questions that interns may have pre, during and post the programme.
2) Supervision and support from the research theme
As you will see from our website, we have five core research themes:
Along with two cross-cutting themes:
If you click on the image below, you can read about our main research focuses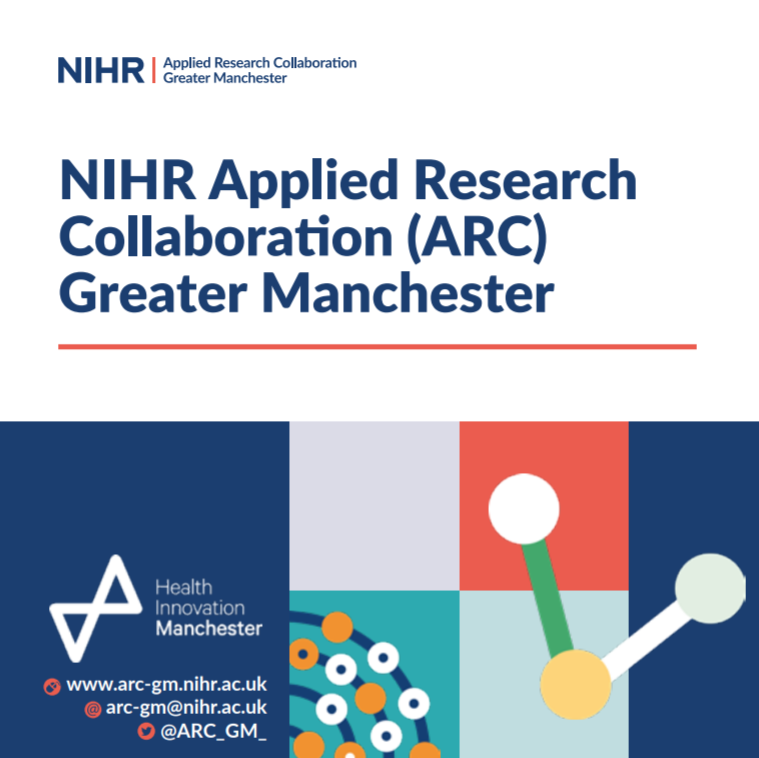 Each intern works closely with their theme, with academic supervision being provided from associated researchers. Supervisors work with interns to provide an overview of the theme, discuss research interests/ideas, learning needs, plan and timetable the intern's 30 days.
3) Individualised research activity
Previous interns have undertaken a range of different activities, some of these include:
Developing their own research ideas into clearly defined objectives and a proposal for a fellowship or other funding
Evaluating a service development through a review of the literature, conducting a small scale evaluation, and a proposal for change in practice/business plan
Conducting literature searches and evidence synthesis
Undertake data extraction and risk of bias assessment for on-going systematic reviews
Contributing to aspects of current research within an ARC theme e.g. literature review; protocol development, data collection/ analysis
Contributing to the development of plain language summaries, research reports, newsletter articles or website project overviews
Building networks of research contacts to form relationships for future collaboration.
This list is not exhaustive but provides some examples of the research activity that an intern might undertake. If you are keen to read more about what previous CLAHRC GM (funded 2014-19) interns have done, you can find out more from here
Interns gain access to University of Manchester Master's level units (with optional accreditation for a 15 credits) from one of the following courses:
The independent study time associated with gaining the Master's module accreditation is largely in addition to the 30 days internship and the intern will need complete this optional work in their free time.
Interns also have access to:
NIHR Learn as an NIHR Academy member
ARC Capacity Building resources
The NIHR GM Research Training Network
4) Learning and next steps
To complete our internship porgramme, all interns are required to present orally (15 minutes with a supporting poster) a summary of their learning from and their next steps.
More information
For further information please contact Danielle Harris (Project Support Administrator) or Rebecca McShane (Programme Manager)