---
---
To keep abreast of all our latest news and developments as they happen -
Follow us on social media via:
Twitter - @ARC_GM_
YouTube - NIHR ARC Greater Manchester
Media Enquiries:
For all media enquiries and requests for communications materials, please contact arc-gm@nihr.ac.uk or phone 0161 509 3840.
Why public involvement is important in postgraduate research and how you could do it
Amy Mathieson & Nia Coupe (CLAHRC PhD students)
As researchers, we've all heard of PPI (patient and public involvement that is, not the nuisance phone calls) and know how important it is. However, whilst it is generally accepted that PPI improves the quality of research, there is some confusion over what it looks like, how to do it, and what impact it actually has. Furthermore, there is little guidance on how to do public involvement in Postgraduate Research (PGR), and arguably less expectation for PGR students to do it.
INVOLVE defines public involvement in research as "research being carried out 'with' or 'by' members of the public rather than 'to', 'about or 'for' them."
To shine some light on what public involvement in postgraduate research can look like, we have reflected on our own PhD research – what we did and what impact it had – to encourage others to involve the public in their next study.
Amy's Research Buddy
What is my research about?
The overall aim of the study was to explore the implementation of an intervention to help family carers provide care at home towards the end of life.
How did I involve the public?
Following a discussion with a member an existing PPI panel, I decided to recruit a Research Buddy to give their perspective and advice throughout the study. I met monthly with my Research Buddy – a former carer – to discuss the study's progress. My Research Buddy was also invited to take part in two data workshops to provide feedback on anonymised transcripts of interviews with nursing staff.
What impact did it have?
The Research Buddy played an instrumental role in:
Offering support and relating problems to their own caregiving experience.
Offering potential solutions when faced with recruitment problems, such as gaining access to, and recruiting additional sites.
Developing emerging themes and offering alternative explanations to themes identified in the data.
Sharing the pitfalls and successes of the research was a positive experience for both me and the Research Buddy, as she discusses here:
"I've enjoyed sharing with you, sharing information, thoughts, plans, all the sharing things I've enjoyed. I've enjoyed caring about you and what's happened to you, [laugh] and your disappointments, and the stress…"
Nia's Stakeholder and Public involvement
What is my PhD about?
The aim of my research was to design an intervention to help people with obesity who attend weight loss groups to make lifestyle changes in order to lose weight.
How did I involve the public?
Following a session discussing my options with a PPI rep, I decided I needed both public and stakeholder involvement, and used two different methods for this. Firstly, I had involvement from one member of an existing PPI panel, who had obesity and lived in the area in which I was working. Secondly, I had stakeholder involvement from the staff who would later be delivering my intervention, and I gathered feedback from people who attended these groups already.
What impact did it have?
The PPI panel member made helpful suggestions resulting in changes to the:
Study title
Patient information sheets / consent forms
Wording of sensitive topic guide questions
Once the booklet intervention had been designed, the stakeholder and public groups provided useful information which resulted in changes being made to:
The content of the booklet (adding a lifestyle goal we had missed, ensuring guidelines were correct)
The design of the booklet, including usability/appeal.
How could I use PPI in my research?
To get you thinking about how you could use PPI in your Postgraduate research, two examples of have been presented above. Some more examples, and guidance on how to get started, are presented below:
Which design is best for me?
This depends on how much time you have, at what point of your PhD you are, and how much funding you have (don't forget, members of the public are helping you, and should not be left out of pocket and are often paid for their time– see guidance here. Here are some ideas: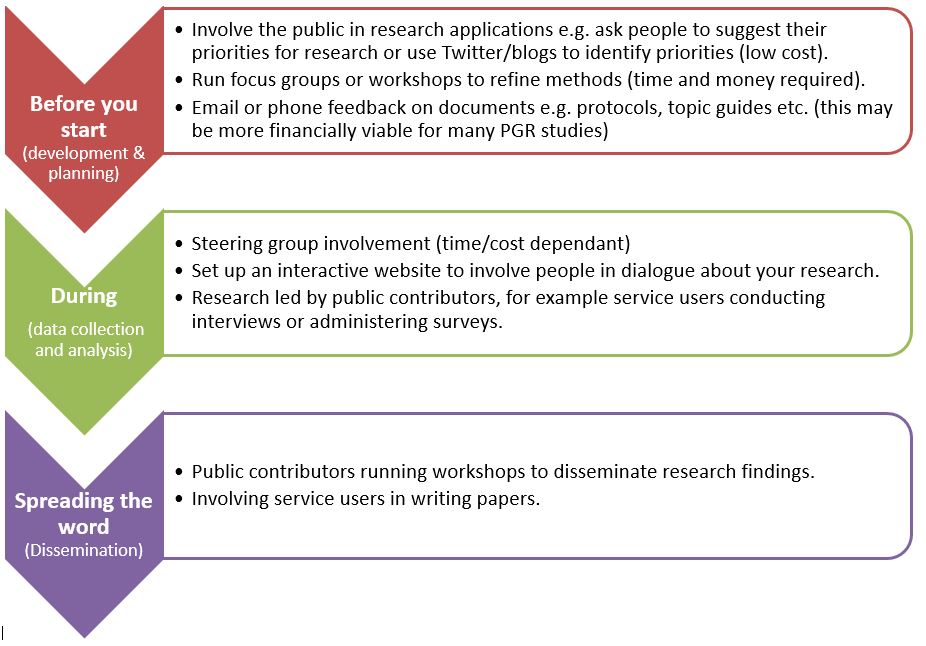 For more information on public involvement in research, visit:
For more information on how to develop and design research proposals, and public contribution, visit:
https://www.nihr.ac.uk/about-us/how-we-are-managed/our-structure/research/research-design-service/
For more information about out PhD projects, see (CLAHRC link)
And look out for our upcoming PPI in PGR paper!
Date Published: 14/03/2019