---
---
To keep abreast of all our latest news and developments as they happen -
Follow us on social media via:
Twitter - @ARC_GM_
YouTube - NIHR ARC Greater Manchester
Media Enquiries:
For all media enquiries and requests for communications materials, please contact arc-gm@nihr.ac.uk or phone 0161 509 3840.
How UK Universities Are Using Patient Data in Research: New #DataSavesLives Animation Launched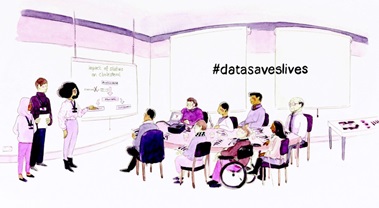 NIHR CLAHRC Greater Manchester are working together with Connected Health Cities (CHC) to improve patient care across the stroke pathway and for patients with wounds. These projects involve examining anonymised patient data to identify current clinical practice as well as using technology, in order to help shape future care.
A new animation has been created to answer questions about the use of patient data by UK universities, researchers and scientists. Produced in collaboration with patients and members of the public by Connected Health Cities and The Farr Institute of Health Informatics Research, the 3 minute animated film has been designed to increase public awareness of how routinely collected NHS data is safely and securely re-used by universities for health research.
The animation takes viewers on a journey to understand how patient data is created and shared and the important role it plays in research to improve the health of patients and populations. Examples are highlighted with relevant case studies and the measures that universities must take to ensure patient data is protected and accessed is explained.
The animation forms part of the #DataSavesLives campaign that has been supported by Connected Health Cities, The Farr Institute and NIHR CLAHRC-Greater Manchester since it was launched by The University of Manchester in 2015.
Stephen Melia, Communications Lead at Connected Health Cities said: "Over the last four years we've been engaging with patients and members of the public in a variety of ways to highlight the positive re-use of patient data in research. We've found that often people have the same questions and sometimes a lack of understanding about how their data is used and shared to improve health.
"Teaming up with our colleagues at The Farr Institute, we wanted to create a short video that answered these questions and reassured people that UK universities take seriously their responsibilities regarding the safe and secure use of patient data. Ultimately it's about transparency and being open about the work we deliver"
Cherry Martin, Communications Manager at The Farr Institute said: "The #DataSavesLives campaign is a plain-English way of talking about health data science research and the positive impacts it has on patients and society. It helps us build public trust around using
patient data in research and allows us to highlight the work being done that really is helping to save lives. Social media is a powerful tool. The #DataSavesLives campaign has created a direct channel of communication between health data professionals and the public and is now used by organisations across the world, united in supporting the re-use of data for research."
"We hope this short film will be a useful tool for health and research communities to stimulate discussions around the importance of patient data over the coming months and we invite all corners of the research community, NHS, charities, industry, and indeed the public, to support our message by sharing the video - data really does save lives."
The animation can be viewed at www.datasaveslives.info
For more information or to request a media pack, please contact Stephen Melia or Cherry Martin
Information about Connected Health Cities and The Farr Institute
Connected Health Cities
Connected Health Cities (CHCs) safely and securely combines population data and technology to address chronic disease burdens and reduce early mortality across the North. Uniting experts from academia, NHS and industry CHC is improving services for patients and building public partnerships founded on trust and transparency.
Funded by the Department of Health and commissioned by the Northern Health Science Alliance (NHSA), The University of Manchester coordinates four CHC regions located in the North East and North Cumbria, the North West Coast, Greater Manchester and Yorkshire.
www.connectedhealthcities.org @CHCNorth #DataSavesLives
The Farr Institute
The Farr Institute is a UK-wide research collaboration involving 21 academic institutions and health partners in England, Scotland and Wales. Publically funded by a consortium of ten organisations led by the Medical Research Council, the Institute is committed to delivering high-quality, cutting-edge research using 'big data' to advance the health and care of patients and the public.
www.farrinstitute.org @FarrInstitute #DataSavesLives
Date Published: 19/04/2018