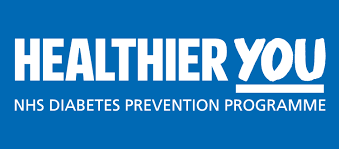 Diabetes Prevention – Long term Multimethod Assessment (DIPLOMA) of the implementation, delivery and outcomes of the 'Healthier You: National Health Service Diabetes Prevention Programme' (NHS DPP)
Visit our Resources section to see our latest activity
What is the Diabetes Prevention Programme?
The increasing number of people being diagnosed with Type 2 Diabetes Mellitus (T2DM) and at risk of complications has made the disease a major public health concern. Increased levels of blood glucose, known as non-diabetic hyperglycaemia (NDH) and detected by a simple blood test, can provide an early warning sign that people are at risk of developing T2DM. Blood glucose levels, along with associated risk of developing T2DM, can be reduced by addressing lifestyle choices.
In 2015, NHS England; Public Health England; and Diabetes UK initiated a nationwide pilot of a T2DM prevention programme. This consisted of seven demonstrator sites, including one in Salford. These sites were used to test new approaches to identifying patients with NDH; and recruiting and engaging them in intervention options, so that learning would shape roll-out of the full programme.
The NHS Diabetes Prevention Programme (NHS DPP) commenced during 2016 with a first wave of 27 areas, covering 26 million people - half the population of England. This coverage made up to 20,000 places available for people to receive personalised help to reduce their risk of T2DM, including education on healthy eating and lifestyle; help to lose weight; and tailored exercise programmes. A second wave of the roll-out will spread the NHS DPP to the whole country by 2020 with a target of making 100,000 places available in the NHS DPP annually.
The NHS DPP is being delivered by four provider organisations - Ingeus UK, Reed Momenta, ICS Health & Wellbeing and Living Well Taking Control (LWTC) - who provide the NHS DPP course with some flexibility to meet local needs.
Why is it important?
The NHS DPP is a publicly funded programme. It is the first diabetes prevention intervention delivered at national scale. It is a significant and ambitious programme that aims to deliver behaviour change at scale to reduce the major public health risk that Type 2 Diabetes is.
Hence it is important to have an independent evaluation of the NHS DPP to assess:
whether the programme is accessing the patient populations at greatest risk,
whether patients receive a high quality diabetes prevention course from their local provider,
if the programme is delivering value for money, and
to advice what could be done to achieve long-term sustainability nationwide.
How we will do it?
DIPLOMA – Evaluation of the NHS DPP is a four year programme of work comprising seven distinct workpackages that make use of quantitative and qualitative methods to assess the following:
Access and equality - whether the programme provides fair access for all patients;
Implementation of the NHS DPP - exploring how implementation differs across the country;
Service delivery and fidelity - checking what is being delivered and how it compares to expectations;
Outcomes and variation - assessing outcomes for patients engaged in the programme;
Comparative effectiveness - analysing the programme vs. routine care in preventing T2DM;
Validation study - a study to collect data on the potential barriers to access;
Comparative long-term cost-effectiveness - to assess whether the NHS DPP is cost-effective compared to usual care in terms of long-term costs and benefits.
Each work package provides complementary evidence for the reporting of other work packages. The study will complete in March 2021 with a final report but ongoing feedback is provided to NHS DPP stakeholders as research findings emerge with the aim to support ongoing development and quality improvement.
To read our fair processing statement, click here.
Who are we working with?
Video Resources
Downloadable Resources
Publications

Hawkes R, Miles L, & French D., (2021). The theoretical basis of a nationally implemented type 2 diabetes prevention programme: how is the programme expected to produce changes in behaviour? International Journal of Behaviour Nutrition and Physical Activity.

McManus E, Elliott J, Meacock R, Wilson P, Gellatly J, Sutton M., (2021). The effects of structure, process and outcome incentives on primary care referrals to a national prevention programme. Health Economics.

Howells K, Bower P, Burch P, Cotterill S & Sanders C., (2021). On the borderline of diabetes: understanding how individuals resist and reframe diabetes risk. Health, Risk and Sociey.

French D, Hawkes R, Bower P & Cameron E., (2021). Is the NHS Diabetes Prevention Programme Intervention Delivered as Planned? An Observational Study of Fidelity of Intervention Delivery. Annals of Behavioral Medicine

Hawkes R, Cameron E, Miles L & French D., (2021). The Fidelity of Training in Behaviour Change Techniques to Intervention Design in a National Diabetes Prevention Programme. International Journal of Beavhioural Medicine

Hawkes R, Warren L, Cameron E & French D., (2020). An evaluation of goal setting in the NHS England diabetes prevention programme. Pyschology and Health

Howarth E, Bower P, Kontopantelis E, Soiland-Reyes C, Meacock R, Whittaker W, Cotterill S., (2020). 'Going the distance': an independent cohort study of engagement and dropout among the first 100 000 referrals into a large-scale diabetes prevention program. BMJ Open Diabetes Research and Care

Hawkes R, Cameron E, Cotterill S, Bower P, French D., (2020). The NHS Diabetes Prevention Programme: an observational study of service delivery and patient experience. BMC Health Services Research

Ravindarajah R, Reeves D, Howarth E, Meacock R, Soiland-Reyes C, Cotterill S, Whittaker W, Heller S, Sutton M. Bower P, Kontopantelis E., (2020), The epidemiology and determinants of non-diabetic hyperglycaemia and its conversion to type 2 diabetes mellitus, 2000-2015: cohort population study using UK electronic health records. BMJ Open

Chatzi G, Mason T, Chandola T, Whittaker W, Howarth E, Cotterill S, Ravindrarajah R, McManus E, SuttonM, & Bower P., (2020), Sociodemographic disparities in non-diabetic hyperglycaemia and the transition to type 2 diabetes evidence from the English Longitudinal Study of Ageing. Diabetic Medicine

Hawkes RE, Cameron E, Bower P, French DP., (2019). Does the design of the NHS Diabetes Prevention Programme intervention have fidelity to the programme specification? A document analysis. Diabetic Medicine

Burch P, Blakeman T, Bower P & Sanders C., (2019). Understanding the diagnosis of pre-diabetes in patients aged over 85 in English primary care: a qualitative study, BMC Family Practice

Stokes J, Gellatly J, Bower P, Meacock R, Cotterill S, Sutton M & Wilson P., (2019). Implementing a national diabetes prevention programme in England: lessons learned, BMC Health Services Research

Blogs
Presentations
More information
For further information please contact Claudia Soiland-Reyes (Project Manager) or Peter Bower (Academic Co-Lead)